7 Veggies to Plant in Your Fall Garden
27 September 2018

Summer might be a good season for growing crops, but fall may be a better time of the year to plant fast-growing vegetables. Choosing the right plants, ensuring proper garden maintenance and correct timing can help you grow quality vegetables within the few weeks between the end of summer and the beginning of fall. Or you can plant the veggies now and enjoy them in spring. If you haven't been so lucky with your fall gardening, keep reading. The following vegetable plants coupled with proper planting and caring techniques will help you wring the most out of your autumn gardening.



Head Lettuce

Compared to other plants, head lettuce tops the list of vegetables that require the least maintenance. To grow it, all you need is a well-drained garden landscape that is exposed to about six hours of sunlight daily. The crops need to be planted 8 inches apart and half an inch deep into the soil. They should be planted 4 to 8 weeks before frost and watered every five to ten days.



Kale

Kale is an easy to grow vegetable that should be planted 6 to 8 weeks before the first day of frost. It requires optimal sunlight and soil temperatures ranging between 4 to 21 degrees C. After engaging a garden clearance service, plant the seeds half an inch deep into the ground and leave a 12 to 15-inch distance between them. This garden should be moist most of the times. The garden care required is minimal.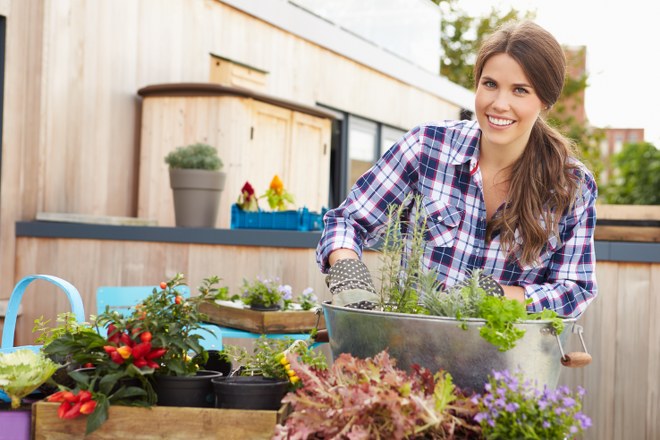 Kohlrabi

Start by planting kohlrabi seedlings indoors for about six to eight weeks before frost. Secondly, hire a gardening service to prepare your soil, subsequent to which you should transfer the seedlings when they are 4 inches tall. If you are not an amateur gardener, you can prepare the soil yourself. Place the plants 5 inches apart and ensure that they get 1 inch of water per week. Kohlrabi should be harvested when they are tender and when their stems are 3 inches in diameter.



Leaf Lettuce

This vegetable requires eight hours of direct sunlight. You should plant the seeds a ¼ inch into the soil and 6 inches apart. Leaf lettuce requires a cool soil temperature coupled with frequent light watering. The leaves should be harvested when they are large enough to eat.



Onions

While you may grow onions directly from seeds, most gardeners prefer to plant mini-bulbs that have been commercially started. They are best planted in the fall and should be placed 1 inch deep and 3 to 5 inches apart. Onions require 1 inch of water per week and about 12 hours of sunlight.



Radishes

These vegetables are hardy and grow rather quickly. They are put to the ground six weeks before frost and should be planted ½ an inch deep and 1-inch apart. Radishes need 6 to 8 hours of sunlight and heavy but less frequent watering. Harvest them when their roots are about 1 inch in diameter.



Mustard

Mustard plants are naturally free of pests and are put to the ground six weeks before the beginning of frost. Plant the seeds a ½ inch into the soil and 3 to 5 inches apart. Mustards need direct sunlight but are known to survive frigid temperatures. Keep the garden in which they grow moist but not wet.

Cool fall temperatures make vegetables such as kale, lettuce and kohlrabi crisp and sweet. The secret behind successfully growing them is choosing the right plants and maintaining the garden appropriately. You also need to understand the growth period of each vegetable and give it enough time to mature fully.