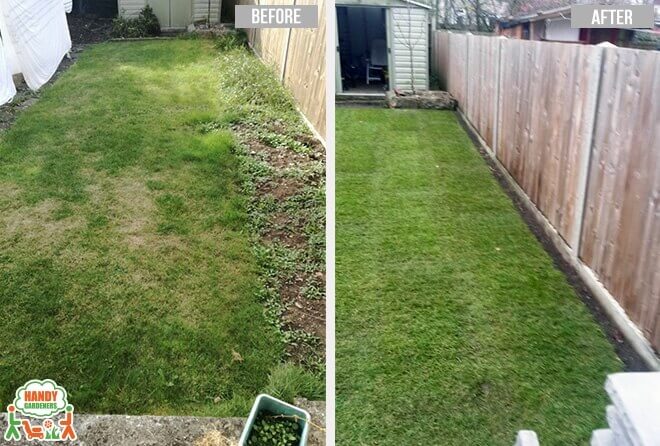 Book Cheap Gardening Services in Brent Park, NW10
Have you ever dreamt of having a beautifully landscaped garden? It doesn't have to cost an arm and a leg when you book our Brent Park garden design services. We can transform your garden, roof terrace and even your balcony – it doesn't matter how big the space we have to work in. Our skilled landscape gardeners have a thorough knowledge of what they are doing and can create the most beautiful spaces no matter how small they are. Let us create a wonderland of colour in your outdoor space and we'll design something that will always be gorgeous, no matter what time of year. The best thing about our incredibly popular service is the prices! You won't find cheaper services so give the best a call today!
Brent Park Garden Designers That Are Second To None!
As part of our long-term service to the community's gardens, we have developed a range of really cheap lawn care Brent Park and maintenance services to suit all budgets and requirements. Let's face it, there's always something new to do in the garden no matter what time of the year it is. Who has the energy to get on with it when they've spent the whole week at work? Now you can leave it in the hands of our Brent Park gardening experts who will come to your property at regular intervals to strim, trim, mow, plant and generally maintain your garden so that it always looks splendid. Be the envy of your neighbours with your immaculate gardens! Call 020 3744 0111 now and book with us!


List of Services We Provide in Brent Park, NW10
Garden Clearance in Brent Park, NW10
Landscaping Design in Brent Park, NW10
Outdoor Repairs in Brent Park, NW10
Lawn Maintenance in Brent Park, NW10
Leaf Clearance in Brent Park, NW10
Hedge Trimming in Brent Park, NW10


Garden Maintenance in NW10 is Our Bread and Butter
Before you can get on and re-think your garden, you generally need to clean it up a bit. It's easy for a garden to get overgrown and out of control when you have limited time to deal with it. Our professionals will sort your garden waste out once and for all! We can deal with your garden maintenance Brent Park NW10, leaf clearance, shift any debris that has accumulated, dig new borders if necessary and mow and trim once the rubbish has been moved. Any stonework can be jet-washed back to pristine condition and weeding together with weed control can also be included as part of our garden clean up package.
Save Money Today with Our Gardening Services in NW10!
You won't find a more professional gardening services NW10 than Handy Gardeners. Our customers recognise our gardening experts as they work in the local community, delivering 100% customer service. We take the time to ensure all our employees are qualified to the very highest standard so they are able to take on any kind of garden-related work. We'll do you a great deal on everything from grass-cutting throughout to lawn planting. Tell us what you need and we guarantee you the best deal. Call 020 3744 0111 and reserve your appointment now.
Our Testimonials
Relax while professional gardeners turn your tired Brent Park backyard into a small slice of heaven.
Handy Gardeners is the best landscaping Maintenance Company in Brent Park NW10. Very professional and knowledgeable!
Brent Park's best gardeners. Affordable and hardworking crews, always leave the place immaculate!
Have to mention how fantastic the garden maintenance service in Brent Park NW10 was as provided by your firm. The gardens are so much neater for us, and our friends to enjoy.
Polly and Chris Turner

02

Aug 2019
I hired a garden landscaper who did a fantastic job at our home in Brent Park. Much appreciated. Would certainly recommend Handy Gardeners to anyone that likes perfection.
I am also from Brent Park and used Handy Gardeners for their lawn care to help me clean up the area next to my garage to make it impressive for my in-laws, and they were surprisingly perfect!
I had to hire low-cost landscaping services in Brent Park coz I was on a budget. I thought that they would deliver a substandard service but I was so wrong. The service was top-notch and my NW10 garden was fabulous!