Decorate Your Garden for Halloween with These Scary DIY Projects
20 October 2016

The day of All Hallows is fast approaching and you still haven't come up with an idea for decorating your garden? Do you want to have the scariest garden on the block that all kids will scream with horror just at the sight of? Don't worry, with these creative DIY projects, you can turn your garden into a spooky and eerie nightmare that young trick-or-treaters will be scared to step into.

First of all, before you start putting up any decorations in your garden, you have to think about garden maintenance and choose only decorations that won't damage your lawn and plants permanently. Luckily, these five projects below will help you achieve a spooky Halloween garden design without any harm to the landscape. Here we go:

Bring In the Jack-O-Lanterns

If you are a fan of the traditional Halloween decorations, the first thing that will come to your mind when you think of garden ornaments for the All Hallows eve will be the classic Jack-O-Lanterns. If you are an avid gardener and have managed to grow enough pumpkins and gourds in your vegetable patch, then all the better! Use the product of your labour and year-long garden care and unleash your creativity to carve the scariest lanterns; you can let your kids help too and turn the pumpkin carving into a fun family occasion.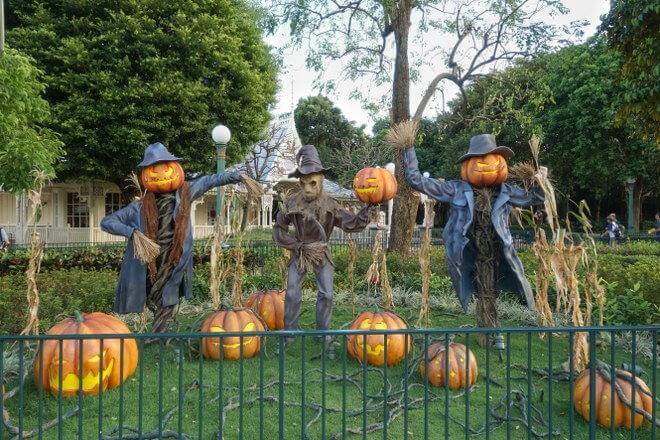 You can arrange the Jack-O-Lanterns on the porch, scatter them around the garden, hide them in the flower beds and among the bushes, or even make spooky scarecrows with pumpkin heads. For the latter, you can use some old clothes and the branches left over after your tree pruning. Light the lanterns up at night and feel your bones shiver!

The Graveyard

What could be scarier than a whole graveyard emerging in your garden overnight, complete with all the ghouls and skeletons?! To make one yourself you can use some Styrofoam and paint it gray to make the graves. You can add a bit of moss on them for a more authentic look. If you want to make your graveyard even spookier, add some mummies, skeletons and zombies – if you are up to the task, you could make these yourself, or just buy or order them if you are pressed for time. A more subtle but equally blood-chilling option is to just add a skeleton hand coming out of one of the graves. Just make sure you remove it after the Halloween – after all, you don't want to scare your gardeners, do you?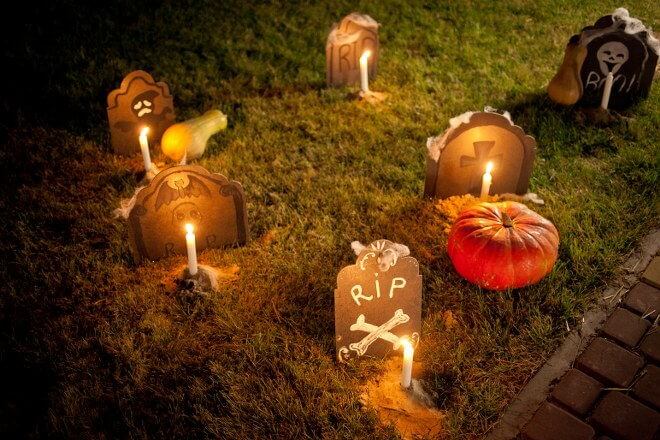 Halloween Door Wreath

Halloween garden landscaping is a great idea, but don't focus only on the garden – let's not forget the front door. Halloween wreaths are becoming increasingly popular in recent years, and creating one is not at all a hard task. Just get a few dry tree or hedge branches, coil them up into a wreath and tie them together with cord or wire. Add a few bats cut out of cardboard, maybe a few pumpkin cut-outs as well, some nice-looking autumn leaves to add a splash of colour and even a few rowanberry branches, and voila! – You have your wreath! Hang it up on the door to welcome the trick-or-treaters and you'll be ready for the night.



Eek, a Spider!

Spiders are an indelible part of the Halloween decorations, and the garden is one of the best places to let them run rampant. You can hang them from your trees, scatter cobwebs all over the hedges and even cover your windows with them. To make fake cobwebs, use some string or if you want to do it the easier way, just buy a can of cobweb spray and start spraying. Add a few tarantulas, black widows or a whole brood of tiny spiders and you are guaranteed to scare the hell out of your visitors. Keep in mind that before you start decorating your trees, there may be some pruning and trimming required for a better effect and for the best positioning of the cobwebs.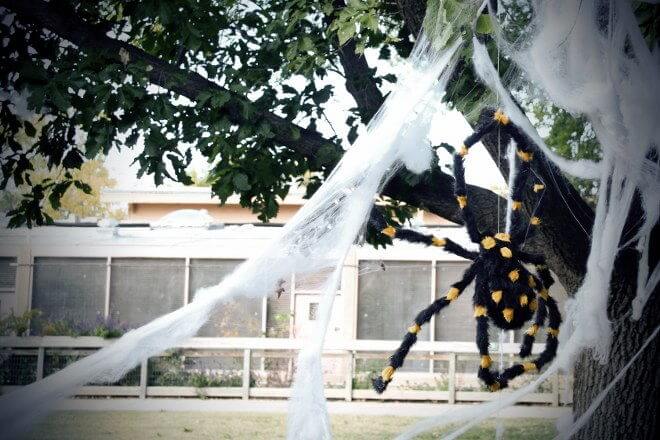 Booo!

What's Halloween without the ghosts! Your spooky garden design will be even spookier if you add a few apparitions to it as well. There's nothing easier than creating a few ghosts from materials you already have at home. Use some old sheets, cut out holes in them for the eyes and mouths of the ghosts or, alternatively, paint ghost faces on them with a black marker, and hang them from the trees or porch with some string. Just don't use any coloured or patterned sheets, as polka-dot ghosts aren't scary at all – they're just ridiculous.



Your garden deserves to be part of all the Halloween fun. These are just a few ideas you can incorporate in your garden landscaping and decorations for the All Saints' Day this year. Use them as a starting point and add any other blood-curdling décor piece you think will fit in with your garden design. Unleash your Halloween spirit and creativity and turn your garden into the scariest-looking one in the neighbourhood.