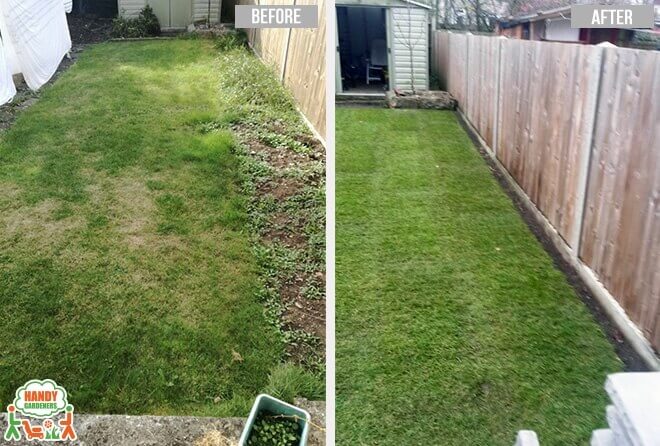 Book Cheap Gardening Services in Elmstead, BR7
If you have an area of lawn that is getting patchy and is in need of a makeover, then we can come to your rescue. We have the expertise to cope with even the worst lawns by reseeding, moss clearing and watering. We can also do lawn care services in Elmstead, BR7 for those areas that are in need of major renovation. All you need to do is sit back and relax in your new lawn and enjoy the summer sun. You can call us anytime and arrange a free, no obligation quote so that you will know exactly how much it will cost.
Don't Worry About Patchy Grass, Let Our Elmstead, BR7 Lawn Care Service Sort It Out
Our gardeners are experts at BR7 landscaping services and are always looking at the latest designs and this puts them in a great position to decide what things suit which gardens. If you are struggling to organize your outdoor space, let them help you get the best out of it. Whatever theme you want for your garden in BR7, our experts are able to transform your space into what you want. They can help decide on plants, ornaments and water features that will bring a lot of character and colour. Our free quote will enable you to decide if you want to continue, so you get great flexibility.
Let Us Take Care of Your Elmstead Garden Maintenance
Keeping up with weeding and other jobs around the garden isn't easy, especially when you have a busy schedule. This is why you should speak to us about our range of garden maintenance options in Elmstead. Our gardeners are able to deal with any garden care job you have and complete it quickly and easily. They can even provide same day service in many areas as well as offer a free, no obligation quote. All you need to do is give us a call on 020 3744 0111 now and you can talk to the experts about your garden needs and questions.
List of Services We Provide in Elmstead, BR7
Garden Clearance in Elmstead, BR7
Landscaping Design in Elmstead, BR7
Outdoor Repairs in Elmstead, BR7
Lawn Maintenance in Elmstead, BR7
Leaf Clearance in Elmstead, BR7
Hedge Trimming in Elmstead, BR7
Speak To Our BR7 Garden Design Team about Your Garden Today
We at Handy Gardeners have always believed that great service doesn't have to cost a lot of money. That's why we have created a list of garden design services in Elmstead, BR7 that we think offer great value for money as well as good results for our customers. We think this makes us the best gardening company BR7 in the area, but why not see for yourself? Give us a call on 020 3744 0111 and see what special offers and deals we have to offer you today. You will get a free, no obligation quote as well as a friendly team that cares about its customers.
Testimonials
I just moved into my new house in Elmstead. I called their gardeners in BR7 to get me started on my little front area and to give me some advice. The team from Handy Gardeners were very helpful and affordable, and I'm grateful for their help!
by Katie L.