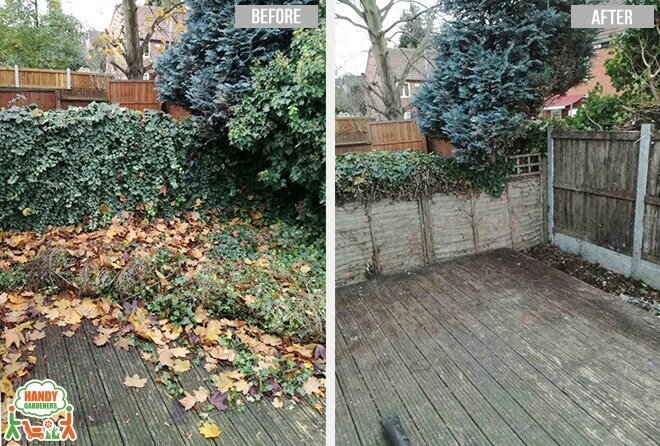 Book Cheap Gardening Services in Nine Elms, SW8
That's why you can call us when you need the grass cut just as you can call us when you need a skilled Nine Elms SW8 gardeners to make your garden vision a reality. Lawn maintenance, for example, is something we know all about and can make your lawn a beautiful piece of turf that is the envy of everyone else. You can hear all the information you need by calling us now on 020 3744 0111. We are the garden help, the reliable gardening expertise at your fingertips and only a phone call away at any time.


List of Services We Provide in Nine Elms, SW8
Garden Clearance in Nine Elms, SW8
Landscaping Design in Nine Elms, SW8
Outdoor Repairs in Nine Elms, SW8
Lawn Maintenance in Nine Elms, SW8
Leaf Clearance in Nine Elms, SW8
Hedge Trimming in Nine Elms, SW8


We're Affordable Nine Elms Garden Maintenance that Gives a Quality Service
No matter what size of garden you have, we have the best Nine Elms landscaping services SW8. We can give you beautiful and professional hedge trimming and pruning. We'll be there when you look out into your garden and feel it would benefit from some work done. When it comes to our Nine Elms lawn care services, we have helped many different clients over the years to realise their dreams in regards to their garden space and make it a green space to be proud of.
We Help With Every Type of Gardening Job
We look on every job we carry out as the most important job and your complete satisfaction is what we strive for every time. It's why you can come to us with confidence when you need weed control because as with all our garden maintenance Nine Elms SW8 services, it's expertly done and, what's more, for a price that is affordable and reasonable. You can call 020 3744 0111 now and hear more about Handy Gardeners and why we are considered the best in the business by so many. We are the garden design Nine Elms specialists which you can afford and can't afford to be without.
Testimonials
No complaints whatsoever about the garden design team in SW8, did what I needed them to in Nine Elms, and really quickly too.
by Scott J.