3 Creative Container Ideas for an Outdoors Succulent Garden
10 August 2016
It seems like the current succulent fad is not coming to an end anytime soon and there is really no reason why it should be. With their ease of care and unpretentious needs, these humble plants require minimal conditions to thrive and grow well in limited space with very little soil. Succulents come in all shapes and forms and can be spiny or swollen, tall or tiny. Because of their minimal garden maintenance requirements and vast diversity, these beauties can be used in plenty of ways to create stunning and unconventional arrangements. From a succulent tackle box to succulent boots and shoes, these plants will make a beautiful landscape feature or a breathtaking garden accent.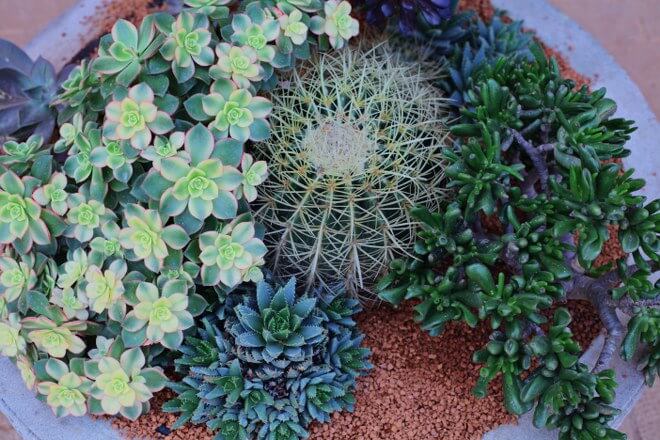 How to Grow Succulents
Before we proceed with the gardening projects, let's have a couple of words about growing succulents. You do not have to be a professional gardener to grow succulents. Although there are different planting methods, you will need some basic materials – a container, soil and pebbles. Succulents are hassle-free to maintain, but some are more drought tolerant than others. If you are a novice, try species such as sempervivum and sedum. Keep your succulents in a bright and sunny location. Growing succulents in a container will allow you to bring your plants indoors during the cool seasons. Whatever types of succulents you choose, you need to ensure adequate drainage. These un-thirsty plants can be found in cracks, rockeries, crevasses and gritty or sandy soils.
1. Succulent Wall of Art
Like all of the ideas in this article, this container gardening project will cost your next to nothing because it allows you to re-purpose items you already have in home. Here is what you will need:
• 1 picture frame
• a wooden board
• 1 wood saw
• greenhouse shading material
• 1 bag of sphagnum moss
• 1 bag of potting soil
• 1 piece of exterior plywood
• enough succulents to fill the frame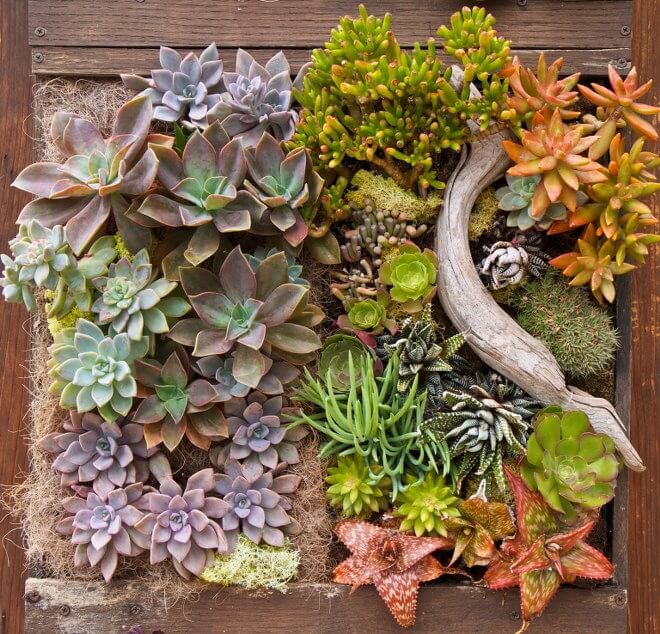 Instructions:
Cut the wood board in four pieces to assemble the box that will be used on the back of the frame. Stick the greenhouse shading onto the frame with exterior wood glue. Glue the wood pieces on top of the shading material to create a box. Make drainage holes in the bottom of the picture frame. Mix soil and moss together and then add it into the frame. Cut the plywood to fit the box and then glue it on the back of the frame. Use scissors to make crosses in the shading materials and push in your succulents. Water the frame from above and leave it lying on the ground for a week. Once the plants settle, you can mount it on the wall. Water the succulents every couple of weeks by laying the frame flat and watering it.


2. Fairy Succulent Garden
Create a miniature magical world for your children with a whimsy succulent fairy garden. Succulents are very suitable for this tiny landscaping project because they look just like regular-sized plants but fit into the small container. The features incorporated in the fairy garden come directly from nature. You can turn pebbles, twigs and seed pods into furniture and a tiny house for the fairies.
• A container
• materials from your garden such as rocks and shells
• gravel
• potting mix
• succulents
Instructions:
Fill 2/3 of the container with potting soil and proceed with planting the succulents. Cover with more soil if needed and sprinkle a bit of gravel. Decorate with different elements depending on your preferences.
3. Succulent Garden Birdcage
Give your garden a little twist with a vintage birdcage succulent garden. Thanks to their shallow roots, succulents can thrive in all sorts of containers. This gardening project is not only easy to pull off, but also effortless to maintain. You will need:
• a vintage birdcage
• paper or plastic plate/ cardboard piece
• sand
• sheet moss
• potting soil
• different succulents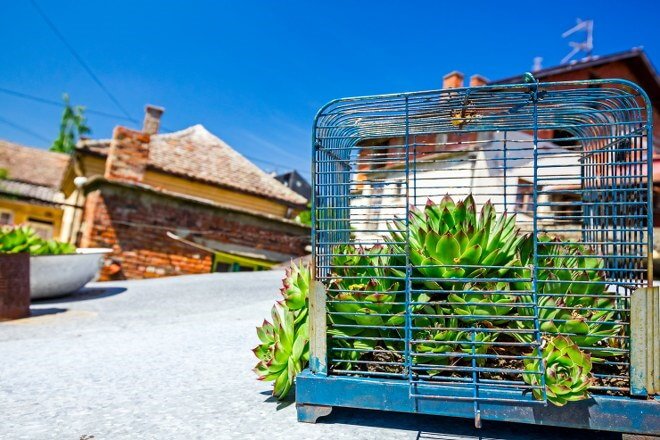 Instructions:
Line the bottom of the cage with a plastic plate or cardboard piece cut to size. Pour a small amount of sand and cover with sheet moss. Add your succulents and use a bit of potting soil to cover their roots. Create texture by using succulents of different shapes and sizes.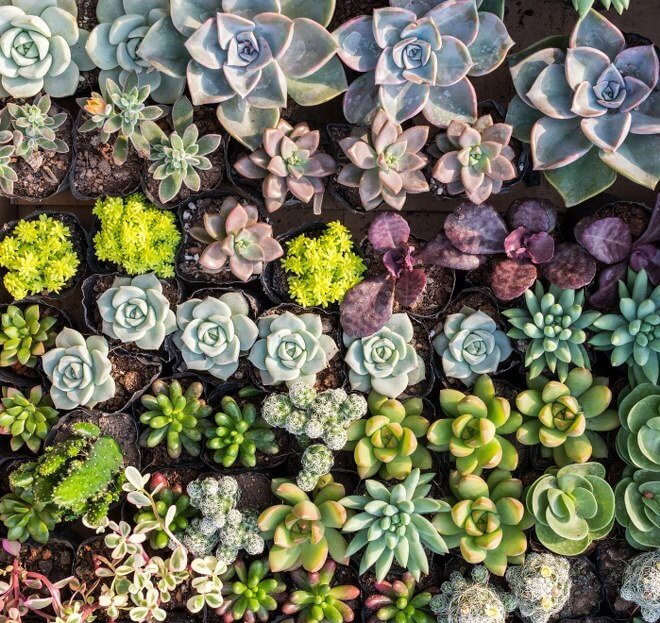 With these simple yet effective succulent container ideas, you can keep the garden maintenance to a minimum.