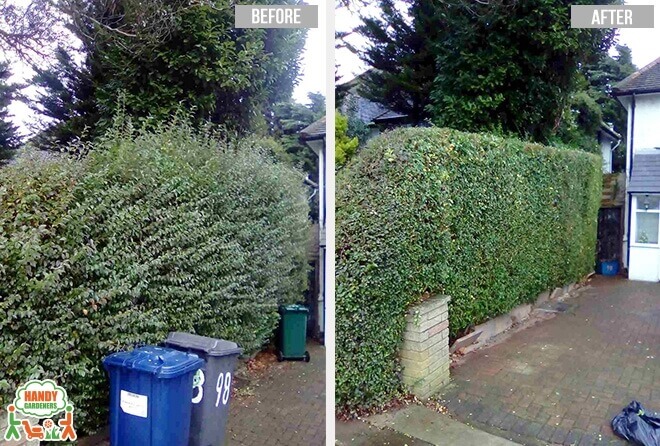 Book Cheap Gardening Services in Malden Rushett, KT9

Tired of trying to maintain that garden all by yourself? Realised that the winter has left so much leaf mess that should be cleared out? Feel overwhelmed? Not a problem, you're at the right place! Phone us on 020 3744 0111 and inquire our affordable and decently priced rates, just for people such as yourself. As a local Malden Rushett gardening company, Handy Gardeners prides ourselves on knowing the local area and the type of KT9 landscaping services, work that you would often desire to make your garden sparkle! We are here to assist you with any queries that we may have to share with you, so take advantage of our expertise and achieve your dream garden.


List of services we provide

in Malden Rushett, KT9


Garden Clearance in Malden Rushett, KT9
Landscaping Design in Malden Rushett, KT9
Outdoor Repairs in Malden Rushett, KT9
Lawn Maintenance in Malden Rushett, KT9
Leaf Clearance in Malden Rushett, KT9
Hedge Trimming in Malden Rushett, KT9


Want the Best for Your Garden? Let Our Acclaimed KT9 Gardeners Add a Touch of Sparkle!

Sometimes you just don't have the time to rid yourself of dated or damaged garden furniture, dead plants and weeds as well as hedge trimming and pruning. Living in London often means that you have a very fast paced and busy life, with little time left over to shoulder the hassle of disposing of all the waste in your back yard or garden that is just lying around-it is looking unsightly. We do this all for you as we know that your garden is the most important thing to keeping your environment looking fresh and beautifully maintained. Call us today on 020 3744 0111 to speak with one of our highly trained representatives who will be happy to assist you with your garden query. Remember, that no job is too big or too small for us! Providing a large selection of KT9 garden design services, our expertise allows us to really understand and create your dream garden for you!
Testimonials
Have used multiple times in Malden Rushett. Fast service, always punctual and very high standards from local gardeners in KT9.
by Harry P.